This month, Valentine Enterprises had an art show / arty / mall-themed gallery experience called Party Castle. The residency ran from October 13th to 17th, and the opening night party was on Saturday, October 15th.
Serving up some low-budget, high-concept accelerationist capitalism surrealness.
Dare I say, the brainseed has sprouted. There was indeed a MALL COP!
What I'm really into right now is a super chill, entertaining, enlightening vibe with a collaborative atmosphere where everyone is really chill to each other. Spa mall party art studio gallery space desert sleepover 3017. Chillness in the personality is like money in the bank. When there are events like this, please invite me. I want to have a good time all the time.
There's nothing better than throwing a party with your friends! (Who happen to be not only beautiful geniuses, but also really good humans.) And there's no one else I'd rather share a mall with. So much love for y'all.
We had some fun things like custom snapchat filter, bouncy house, food court, and VR sponsorship. Artists were challenged to create work that was their interpretation of a shopping mall, and results ranged from serious critiques of capitalism to nostalgic afterschool ephemera.
Below, a motherloade of individual images of the artists in the space (which really looked like a mall!)
ALL(MOST) STUDIOS
A creative space for art shows, events, artist residencies, or whatever you can fill it with! Its history as a tile store and large vitrine-looking layout lent itself very well to the grand design of the mall. All(most) is run by true bosses Theresa Baxter and Rachel LeGault, who do an excellent job of making sure everything is copacetic but also keep a chill, laissez-faire approach to gallery happenings. I would highly recommend this place.
1288 S La Brea Ave. Los Angeles CA 90069
BLUEROAR
Our lovely sponsor! James Hurwitz is a Los Angeles based multimedia artist. His current work focuses on audio and video production, light sculptures, collaborative programming, and interface design. For Party Castle, he contributed LED pyramids, VR demos, and made sure everything was orderly as the official Party Castle mall cop.
IRIS RAY
Iris Ray is an LA-based photographer from Atlanta, GA. She introduced me to All(most) Studios when we did a shoot here over the summer! Very grateful for that connection, and her highly trained aesthetic eye. Iris had an exclusive selection of her prints for Party Castle, and took still photos of the event.
LOVED BY ERIKA
Erika Lawson is a musician, radio DJ, and fashion designer. Her clothing line Loved By Erika, handmade in Echo Park, had a pop-up at Party Castle. Just between us dance moms, she is also in Belly Belt.
CARMEN JOHNS
Carmen is a maker of zines and sculpty figures. She lives in Baltimore and is originally from Los Angeles. Her zine La La Land is available in stores nationwide and will be featured in the DC Book Fair.
MJ KATZ
MJ is an LA-based photographer and writer. She debuted her sculpture series, "Unwilling Participation Trophies", at Party Castle. Her solo photography show So Long is on view at Infinity Room in Los Angeles until November 4th.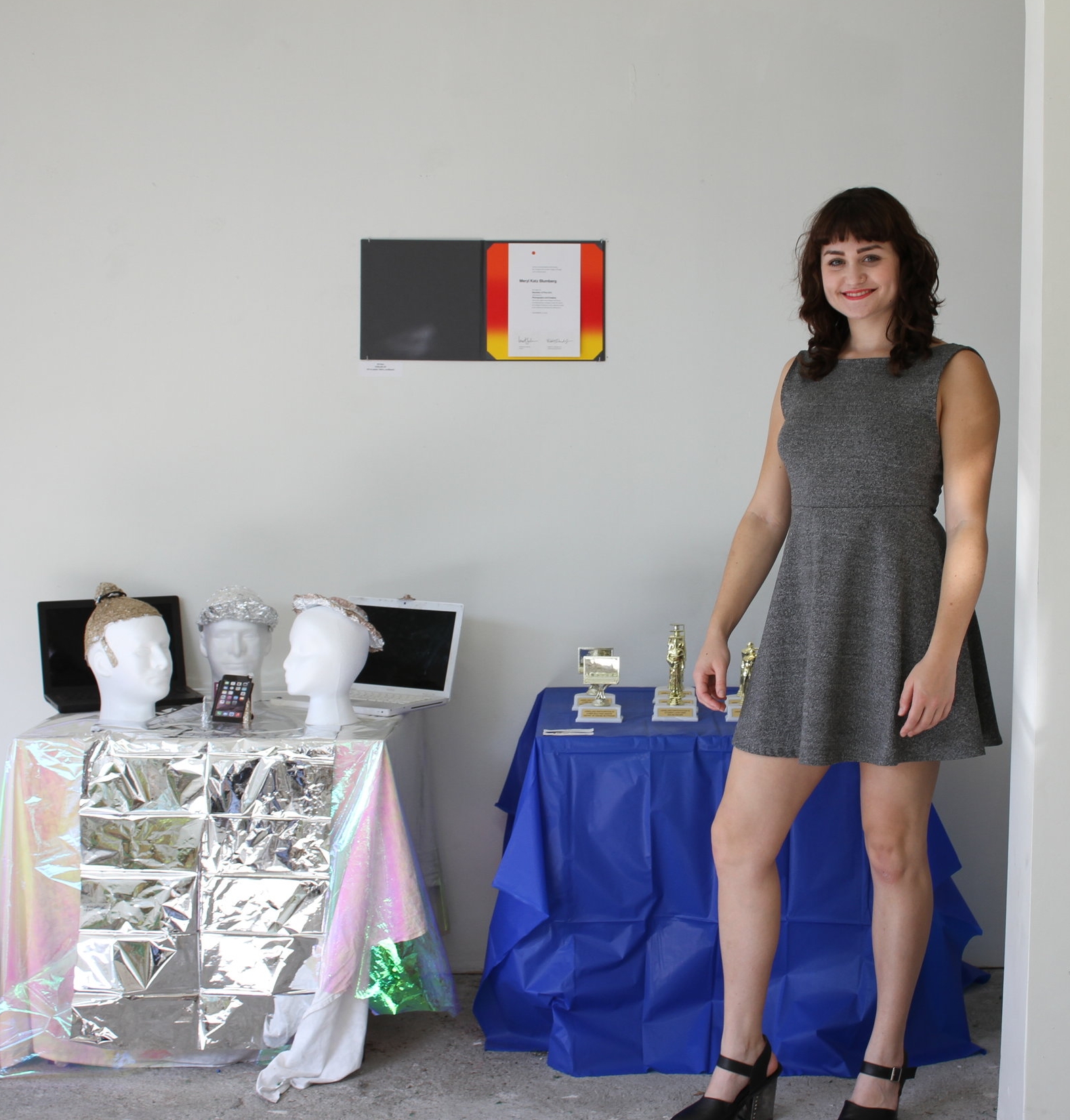 ISABELLE HARADA
Isabelle is a post-internet artist whose work addresses the subject of physical and conceptual limitation in a hyper-capitalist world. For Party Castle, she created an interior/exterior piece called Barren: attendees could interact with this space, chill within and without it, and touch its landscape, which consisted of plants both fake and real, giving a physical presence to the cloudiness of reality, a mind-bending ambient garden located in a mall.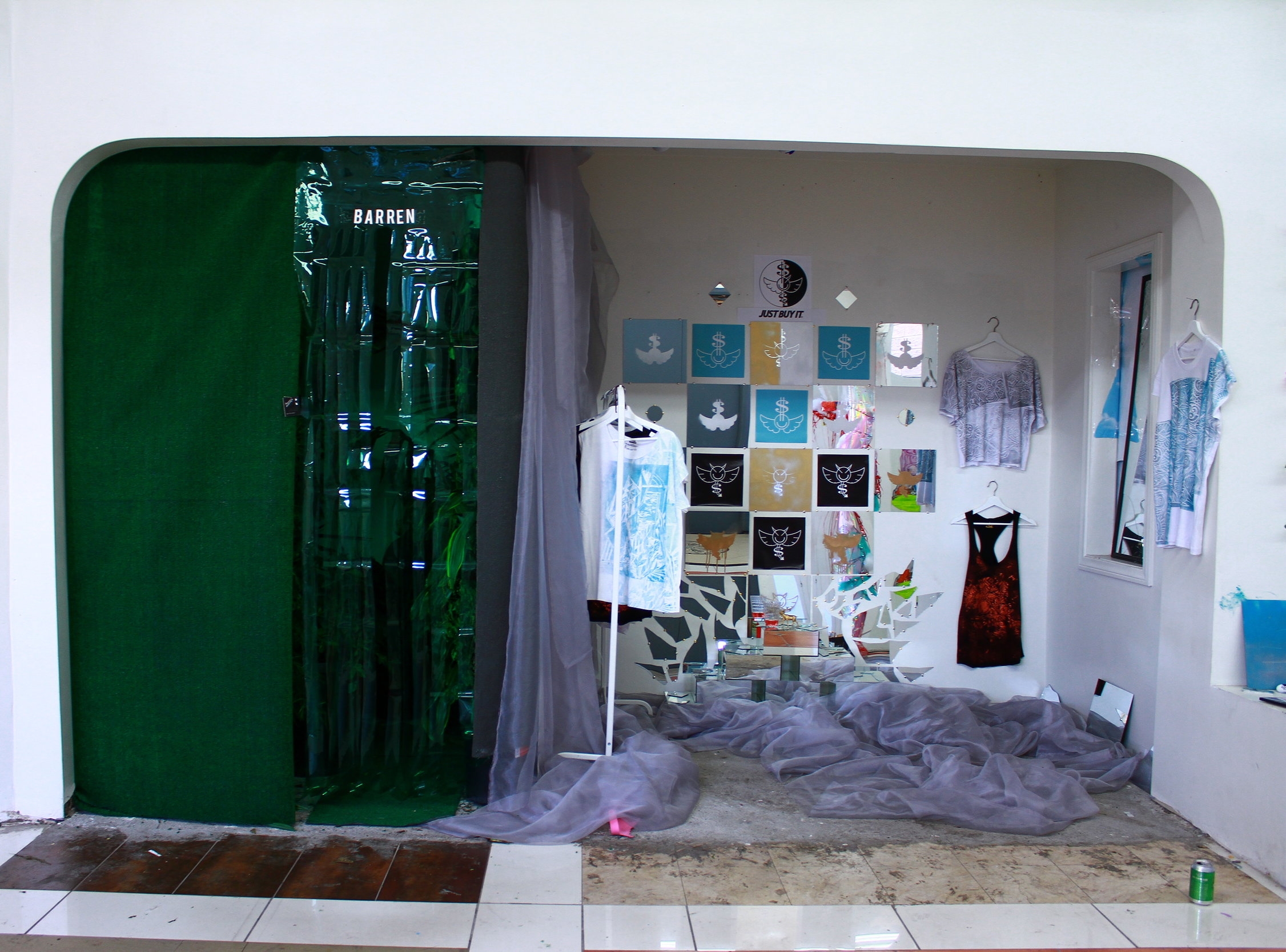 CAIA DIEPENBROCK
Caia's work marries high-concept installation art with surreal physical presence. For Part Castle, she created a dressing room displaying two variants of why the buyer should purchase her items, both the angel and the devil beckoning for capital in unison but through different plates. The clarity and size of the dressing room mirrors also disintegrated as the consumer looked downwards. Caia is currently the artist in residence at Lehrer Architects in Echo Park.
HOBBES GINSBERG
Hobbes is a photographer and filmmaker living in LA. She is primarily known for her vibrant self-portaiture, and has been turning her lens on custom photobooths as well as short films for her production company Red Lighter Films.
COSTUME SLAVE
Costume Slave is the project of Sofia Celedon, an LA-based costume designer whose pieces are as ethereal in design as they are technical in construction.
TEMPEST LE MANS
Tempest le Mans is a rock band from the Northridge Mall fronted by Nathan Castiel. Forbes Magazine said they have a "soulful consciousness". Believe it.
BELLY BELT
Belly Belt is a three piece dance R&B pop trio of dreamgirls. All dances choreographed + music written and recorded by Kate Feldmann. Stay True, the latest release, is out on Lolipop Records. I covered Belly Belt on tour through the enchanted southwest + SXSW.
https://bellybelt.bandcamp.com/album/stay-true
PETER KALISCH
Peter Kalisch is a visual artist and musician whose work blurs the line between color, horror, and political conduct.
MINI BEAR
Mini Bear's anthemic 80's retrofuture pop tracks are the brainchild of Echo Park lady Lauren Kop. Her EP MInd Control is out on New Professor.
SIR & MR CASTLE
The first #official Valentine Enterprises product, Sir & Mr Castle are a married couple of stuffed acid-tripping castles. They only take golden acid, which they love to eat with Capn Crunch. In addition to being cuddly and enlightened, they are also useful: they have pockets which can hold your pens, phone, and other supplies. Each character is custom made and handsewn. They will be available to purchase on this website on November 20th: just in time for the holidays! Elon Musk loves these: he traded me a custom pink Tesla for a giant Mr Castle.
At the end of the night, I gave a keynote speech. Here is an excerpt featuring the unveiling of Sir & Mr Castle:
It has been my dream to give a keynote address at the most important mall-themed party of the year. As someone who has lived a quarter of a century, I now have a rare little moment to give my young family some sage advice..... Live 1000%. Do everything. The purpose of life is to enjoy. Was it Aristotle, or Anna Nicole Smith, who asked "what is the good life and how can I find it?" And if you can't find it on Earth, maybe you can find it in space.
I am very much an integrationist and kind of see the world as a blank canvas on which to create the singularity every day.
I definitely see the heart of what's next as the intersection of technology, art, and spirituality. And the singularity, or point in spacetime where everything meets everything. This is something I've thought about for years, and colors all my projects, guides my meditations, centers my psychedelic trips, helps me navigate my quotidian melodrama.
Creativity is about manifesting our own reality. It's not just about being arty and weird. It's about having perceptual clarity, and as fierce of an understanding that you can have about yourself and your world. I'm glad there was a fair amount of documentation for this micro world at Allmost Studios. Like I always say, keep your phones on me and hashtag party castle!
TANNER'S OPENING NIGHT PHOTOS
YOUR INSTAGRAM PICS & SNAPS
PHOTO DIARY
Hundreds of exclusive photos from the rest of the residency. Party Castle wasn't limited to just the opening night. It was almost a week of owning a mall. More than anything, Party Castle is a state of mind. Many of these photos of me by MJ Katz.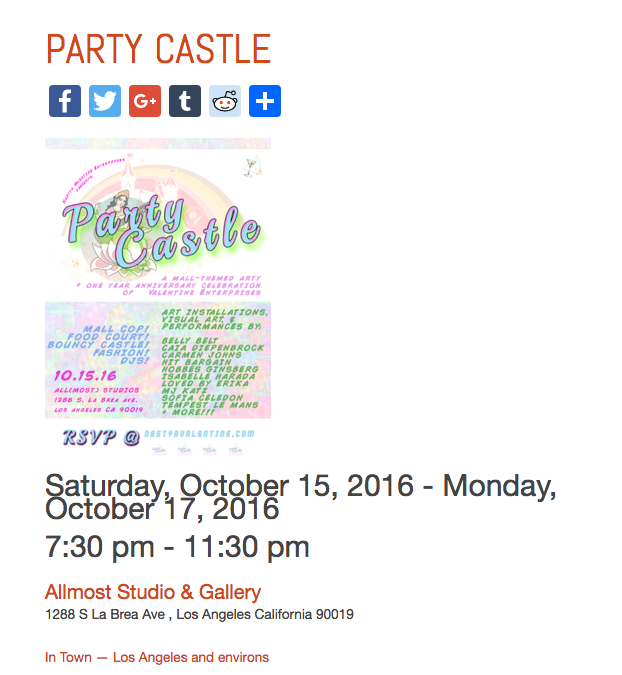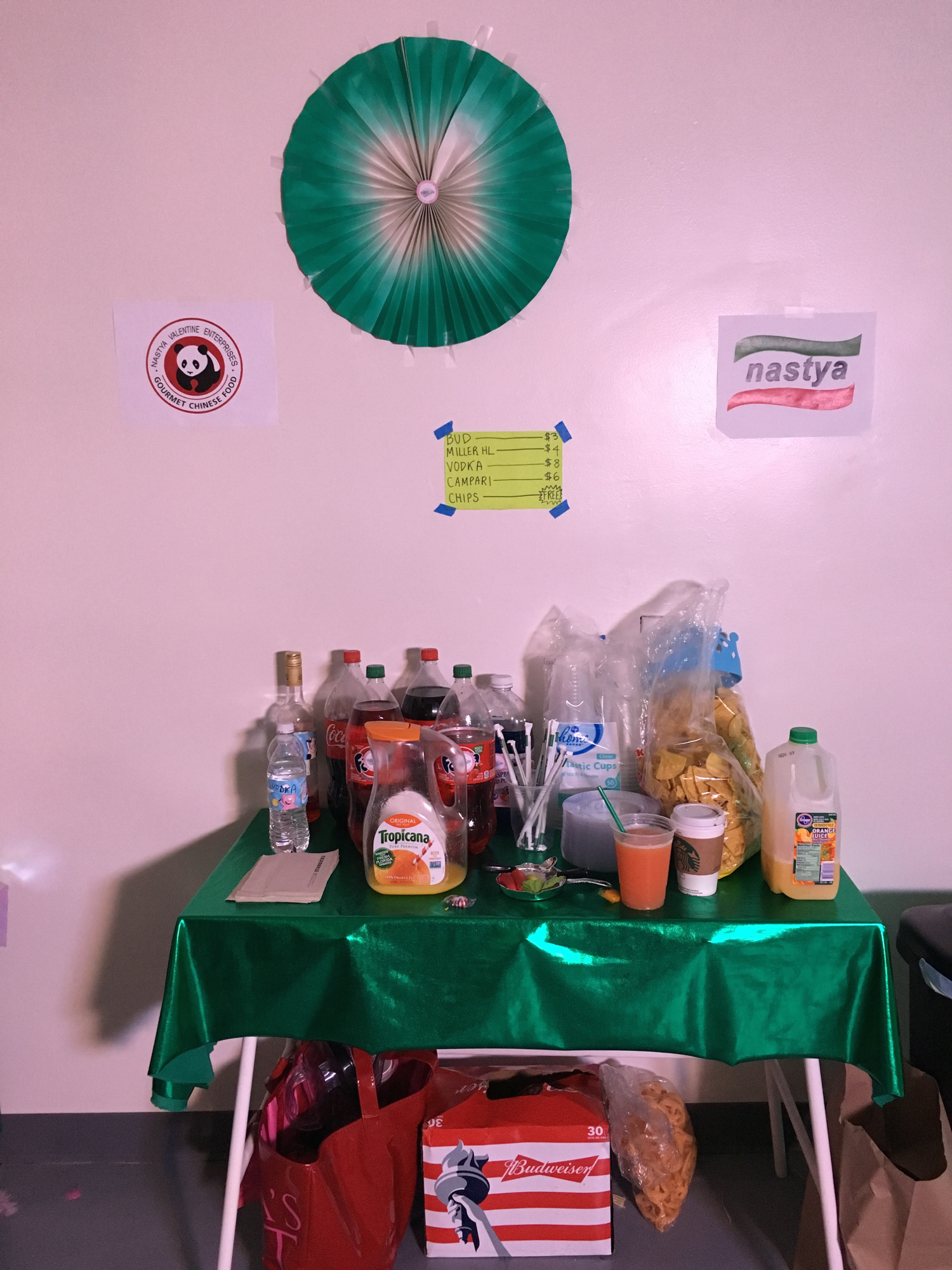 Fam, it was really lit. Exquisitely good time, I say as curator and as attendee. You may think this overly self-serving, but one of the main reasons for putting on this event was the lack of really chill FUN multidisciplinary immersive art things to do in LA (not to mention free/cheap ones). There are many shows with cool art and beautiful looks and fun activities to do, but often the vibe of the curators/artists/attendees was such that I couldn't make friends or introduce myself or felt unwelcome because I didn't have daddy's credit card or wasn't featured in Dazed 100 or didn't know who Ryan Trecartin is (side note: I do know who Ryan is and am a huge huge fan actually but you get what I'm saying... like maybe, if somebody isn't familiar with ____-piece of contemporary art/people/ideas when there's so much out there, instead of ridiculing or judging or calling them out, educate them or send them a link since you know so much? )
Am I alone in thinking the ~art world could loosen up~ and have a good time and put the art in pARTy? Whimsical elements shouldn't read as idiocy, especially if well-executed and preserving the high quality of the artwork in a gallery setting. I'm not suggesting to stuff serious issues with saccharinity (gUILtyyyYy!!~*~) but it wouldn't hurt to crack a smile ever so often. Somberness displayed in art is chill, I guess. To a point, it can also be as cheesy as overemphatic optimism. Well-being is something I'd rather glorify, or at least the crossover of sadness, calmness, anxiety, joy, fantasy, and whimsicality. A fuller range. There's a lot of vulnerability accessed in humor, though, that I find is more conducive in shedding light on negativity or heavy issues than outright presentation of the grimness of life. We all know it can be dismal and things can get dark, so why not create a space that at least temporarily offers refuge from bleak and abysmal existence (and is also a mall... and a garden... and a castle... and an art piece) but isn't a complete vacay from reality? My intention is not to annihilate the feels that suck but to create new ones that rule.
To conclude, I'm happy with how Party Castle turned out. This is only a fraction of what I want to do, and the beginning of Nastya Valentine Enterprises. Thank you all again for being there, and thank you for existing. There will definitely be more of these events. Seasonal Party Castles????
Fam, I hope that in the future you will continue to come thru because the plan is to keep getting lit and staying woke. Polish up that pineal gland for intergalactic arty hyperrealness and bring plenty of Tang because we're gearing up to colonize Mars. My husband Elon Musk will be there signing autographs.
Best,
Nastya Valentine
CEO / Creative Director of Valentine Enterprises, Space Businesswoman
I'll leave you with this video, which is how I feel right now: