Appropriate to my 2015 stage name of Death Valentine, several deaths and resurrections happened to me this year. Never in my life have I had to battle and confront myself so directly in all areas: spiritually, physically, emotionally, artistically. There were many times I questioned my motives and doubted my direction.
What I experienced on a daily basis was some post-apocalyptic re-coming of age reincarnation resurrection rerouting narrative that seemed to have no context or structure. It could have almost been poetic if it wasn't so morally deflating. ~Un-becoming~ and ~re-becoming~ were huge themes. Selfies and Drake memes were microtherapies and mood filters. I'm glad it happened and I'm glad it's over.
There were a few moments of joy where I genuinely had fun. Hands down, the highlights of my year were my travels: the beginning of 2015 saw me traveling to San Francisco/Oakland, Las Vegas, and accompanying Suntundra Moon on tour through the American South. That March on tour was the best month of 2015: great people, great places, great music, great vibes. A commission to shoot a music video in Russia in July was also spectacular: I got to see my extended family, which is really special (and that was IN THE BUDGET!!!)
In spite of those lovely trips, at the core of my existence I was really hurting. My mom and her ex-husband had just split up and the divorce was messy personally and financially; my body image issues were still rampant even though I had stopped physically torturing myself with my eating disorder; I was still having panic attacks weekly, residual from 2014; at my most vulnerable, I was in a brief but soul crushing relationship with a Hollywood executive who shat on my art, urging me to work on corporate and commercial photography (which I have no experience or interest in) and abandon my Death Valentine / Valentine Enterprises projects which I've been building up with blood, sweat, and tears (many tears).
For a while, his manipulative spell worked on me: I was already sad and confused about art trajectory vs. professional trajectory, and he inspired me to descend even deeper into my valley of despair. I stopped watching movies and listening to music, unable to face the things I loved and wanted to dedicate my life to. I started to hate men. The relationship was scary and hard to get out of — I'm glad we parted ways as we did and I wish him best of luck in life as long as it's far away from me.
Everything happens for a reason, though, right? Just as I started to feel a little bit safer and stronger, and began to "make Valentine Enterprises a legit thing", my car was hit by a driver who didn't stop at a two-way stop sign the very day I was moving my stuff from West Hollywood to Los Feliz. The impact rammed my entire front bumper off and fucked up my neck and back, for which I saw a chiropractor for four months. Eventually, their insurance company paid for me to get a new car, and I do love my fabulous new ride. It has character.
I had been meaning to see a therapist/psychiatrist for a while but had no money to do so. With some of the insurance check, I saw a spiritual advisor for my PTSD. She told me that I was spiritually dying. "Do you have an eating disorder?" She asked. "Yes-" "Why? There's nothing wrong with you." She read me like a book from the next 45 minutes and was dead-on. It was as if all these abysmal things I was thinking about myself, my past, my trajectory, and my immediate environment were were in some sort of unreal haze to me until she vocalized them. It's important to have someone unbiased, who's not a friend or family member, explain yourself to you. The spiritual advisor said that I was going to evolve into a new me, and that in this period of awkward evolution, I could go on a path of good or a path of evil. Ultimately I am a good person, and I shouldn't let my past traumas turn me dark. Let it go.
So I am letting it go. I am pure of heart, and there is hope for me, and I will let my brilliance, vibrance, and clarity shine through in my work. I know now that I am on a good path. Good spiritual path > shitty sociopath.
Beginning of the year was okay but confusing, March ruled, April-August were absolutely unbearable and terrifying, September-November was a slow ascent into chillness and the beginning of a crucial healing time-- physically, spiritually, and psychologically. I worked with a lot of cool people: the badass ladies at Unheard Records, Red Lighter Films, and Hit Bargain. I set up a chill studio space (which I plan on expanding). After a chance encounter, I started working for Angelyne.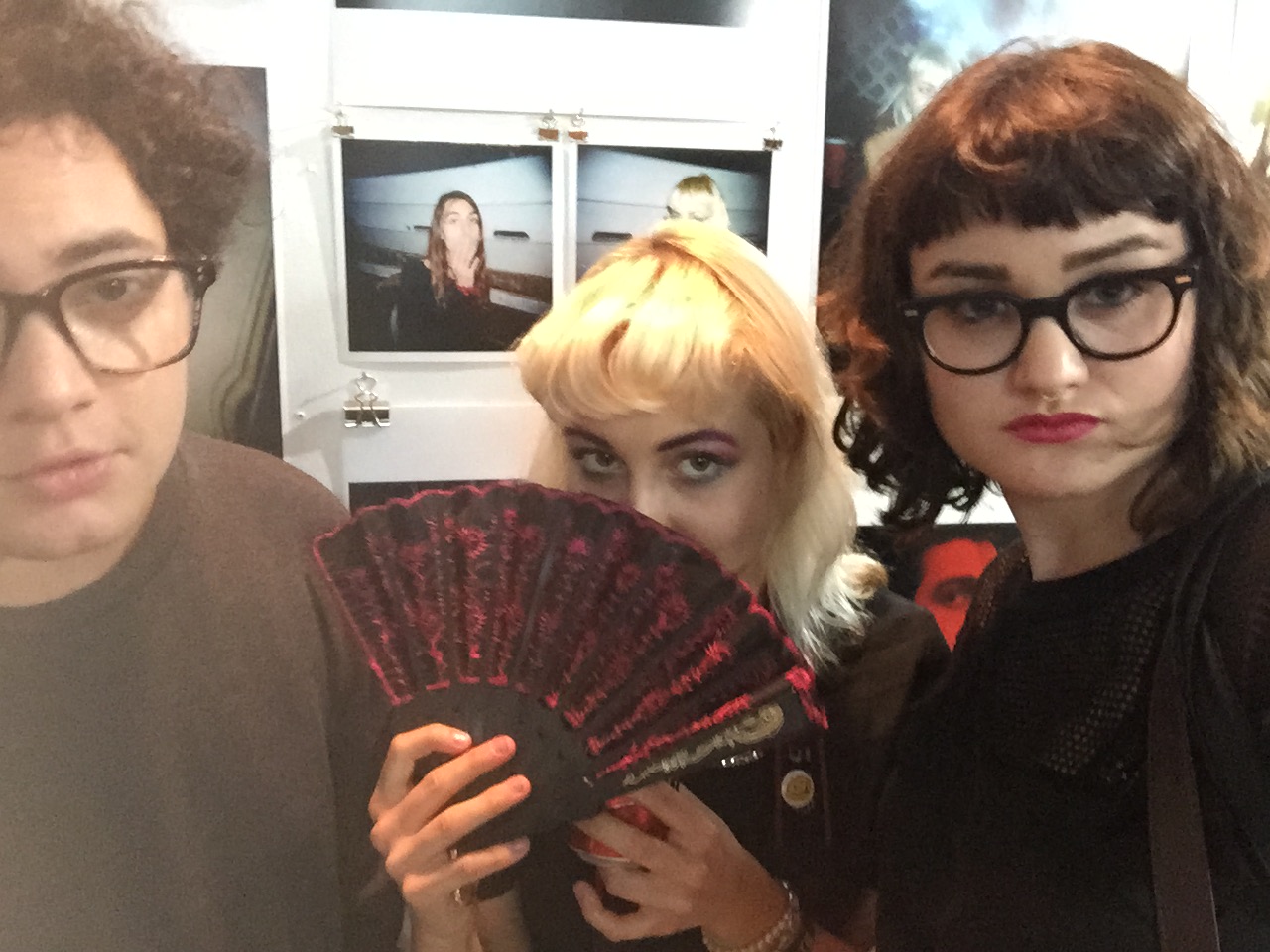 -I've forgotten how to feel good/relax/enjoy and am now relearning-
-I've forgotten how to critically dissect music/film/writing/art and am relearning-
-I've unraveled as a human and am relearning to exist peacefully-
What terrified me in 2014, having a non-art related job, is something I now cherish and actually enjoy more than many previous industry commissions. My chill non-art related job allows me to work on my art on the side without coming home having exhausted my creative energy. My living setup is functional, I have the best of LA's west side and east side. Valentine Enterprises lives, and the trajectory looks bright and dank as fuck from my crystal eight ball. My anxiety is for the most part alleviated and my body feels good. I'm extremely grateful for the company and support of my friends: I've met so many awesome people this year and I love you! 2015 was an intense fucking trip of a year; every second that dragged on was significant. I do wonder if half of my mistakes could have been avoided; I figure that if not in 2015, I would repeat them some other time. Shit, I might fall into the same traps this year. But let's hope not ~~ at this point I've engineered myself into a much stronger and more #fabulous human.
I'm glad it happened because now I truly appreciate what I have, and I'm doing great. I already know that 2016 is going to be amazing because anything's gotta be better than 2015.
I'm excited for the future. May 2016 bring us all good fortune, chill vibes, and fabulousness! May your new year be as robust and luscious as Russell: