This year, no doubt, took the cake for incessant, gratuitous selfie-taking, taking selfies next to other people also taking selfies, photographing people while they selfie and feeling totally clever and art and real and meta. Kim Kardashian published a real actual legit hardcover book, Selfish, just filled with pictures she's taken of herself; my mom now has discovered it and takes every opportunity to selfie; people left and right are becoming famous on twitter / tumblr / instagram / pinterest / whatever based on their selfie work (although a quick Google search will show the intrigue of self-portraiture since the beginning of recorded art, leading perhaps to a trip down a Google hole of artistic narcissism); I'm estimating I took somewhere between 500~700 selfies this year (but that's just me being modest). Here, let me share some of my ~work~ with you.
JANUARY
I deleted all the pictures from my iPhoto when I upgraded my organization to LightRoom in September, partly because it's more high end and effective, partly because Jan-August were just awful and I didn't care to back up my personal photos. Besides, I can find most pics on facebook. According to FB, this is my first selfie of 2015, taken after midnight on 1/1:
and this is the second, taken the morning after:
FEBRUARY
February 14th is of course Nastya Valentine's Day, so I try to give back to the community.
In February I #officially disbanded Red Stripe and started making music as Death Valentine.
MARCH
In March, I went on tour with Suntundra Moon through the American South and swung by SXSW on the way back to LA. More cities + more people = more selfies.
APRIL
Post-tour selfies. I think I took the most selfies in April. In March I pointed my lens at everything but myself and missed that introspection/instant gratification.
MAY
I didn't take many selfies in May due to my depression, but here are a couple of gems. That's right, besides not sleeping and not eating and not getting out of bed, sadness also makes you not selfie (lack of motivation to do activities normally enjoyed).
JUNE
Another slow month. How the bags under my eyes glimmer like they belong in the Louis Vuitton F/W Collection.
JULY
It's summer(time sadness)! One of my favorite selfies is from this "Bring Your Sylvia Plath to the beach" day.
International selfies: I rocked out on that iPhone 6 camera during a commission in Russia.
And on my Canon 7D in a Moscow hotel room.
And on my Canon 7D again at my grandma's house with her succulents.
AUGUST
This is going to get a separate post, but here are a few chiropractor selfies after my car accident, documenting the boredom and the hurting.
If I could have taken a selfie in the MRI machine, believe me, I would have. I'll settle for a round of selfies with my heavily layered collage series "Narrative of Manipulation", for a group exhibition, Heartletting at Heart of Art Gallery.
SEPTEMBER
-excusing myself from this month because I was sick for most of it, longer post about chiropractor selfies and the adjacent epiphanies to follow-
OCTOBER
Halloween totally came and went this year, but selfies are forever.
NOVEMBER
Birthday selfies. At this point in the post, I want to punch a hole in the wall if I have to write the word 'selfie' again.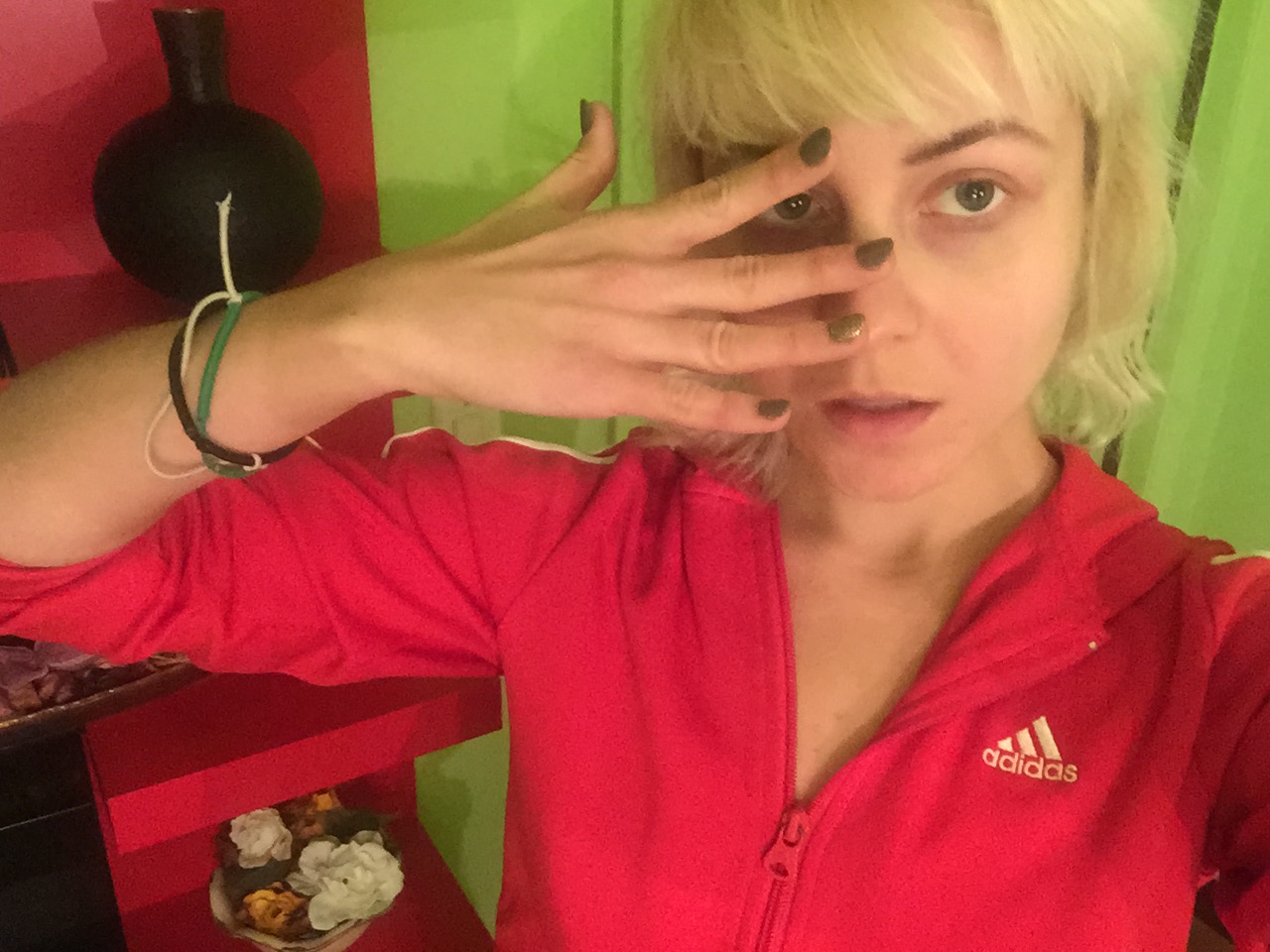 Are you getting sick of my face yet? Cause i'm only getting started 👻